VUB Social Entrepreneurship Fair 2019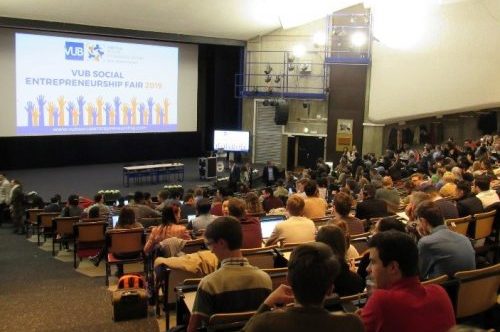 ---
CBE attended the VUB Social Entrepreneurship Fair 2019, that took place on Nov 26th at the VUB Brussels Humanities, Sciences & Engineering Campus in the city of Brussels. The event was a great success! More than 600 participants joined the Social Entrepreneurship Fair.
During the event CBE had the chance to present the outputs of the Erasmus + Project – EnForCES Empowering Food in StartUps, which aims to encourage the creation of new start-up with a business model based on the circular economy and to promote the Erasmus for Young Entrepreneurs Programme which gives new or aspiring entrepreneurs the chance to learn from experienced entrepreneurs running small businesses in other Participating Countries !
During the second part of the event, CBE had the opportunity to meet and get in contact with entrepreneurs, students, and community leaders presenting its activities and projects in the field of entrepreneurship. It was a great pleasure to be part of such a great initiative, surrounded by innovative and promising projects and exchanging ideas with young and motivated future change-makers on how to build a better world for tomorrow!